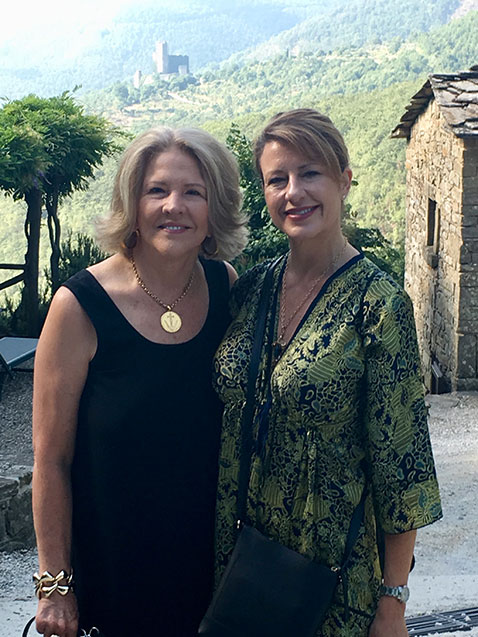 Beverly Campbell, Charleston, South Carolina USA and her daughter Meleik Goodwill, New York

In Beverly's words:

One of my passions has always been the exquisite joy and education which travel never ceases to deliver. So four years ago as if by cosmic intervention the Borgo di Vagli site popped across my computer screen when I must have been researching rental villas in Tuscany as a future dream. What I read and saw on line intrigued me.
Unable to go then the image of that verdant magical hide away simmered in my brain gestating for those four years until I started planning a Mother-Daughter trip we savour as often as each of our busy lives grants us the privilege. My house in the US is a typical Southern style two story home in Charleston, South Carolina which is a vacation destination town itself. I also own a 240-year-old stone cottage in Brantome en Perigord, France, near Bordeaux, which has a 12th century abbey and a river below my terrace and pergola. So, I was not really visiting Borgo di Vagli with intentions of buying, just curious. But it was calling me and had its own plans for me and my daughter.
The moment we arrived in July of this year we were both blown away and enchanted under it's spell. Being an artist I sometimes feel my high standards for aesthetics and for craftsmanship are not often met. But I could not ignore the impeccable level of attention and loyalty to authentic details which so impressed us. My discerning eye was unable to detect not one short-cut in genuine quality of materials used, or trade off or substitute for adherence to period authenticity. Yet every necessary modern amenity was cleverly included within the design. My daughter and I kept discovering some little exciting detail in our apartment we had overlooked the day before.
I longed to meet the maestro responsible for this artistic replica of history. The architect/ restoration expert must be a deeply sensitive and loyal follower of his craft. To our delight he sat across from us during one of those galvanizing summer dinners under the Wisteria laden pergola feasting on Dina's divine dinners cradled in a Tuscan sunset. Fulvio De Rosa's story of having been engulfed within the flame of a vision to resurrect the abandoned hamlet and gift it with a chance to breath again captivated us. This mesmerizing gentleman helped to incite my daughter and I that night to become a worthy pilgrim to return and be nurtured by it's spell.
The unique ambiance, property grown delicacies, authenticity to detail and location within Tuscany are all worthy attributes in themselves. But my daughter and I later agreed what is unique about Borgo di Vagli and compliments it's many attributes is the quality of people with high standards of artistic taste and intellectual level of conversations we had the joy of sharing with other owners and the travellers clever enough to find Borgo di Vagli. Our dinner conversations impressed us both so much. These are people we want to be our neighbours, to set next to at dinners and be honoured to call them friends.
Before we left my daughter and I decided to become partners in ownership and know in our hearts it is an opportunity of a lifestyle investment which we look forward to sharing with her two sons for many years in the future. I call the hamlet a Five Star Rustic Treasure and now I am proud to be an owner also of a small anointed piece of sacred Tuscan soil.
I returned last week on my maiden visit as an owner with my best friend from Paris and was lucky enough to experience the Olive Oil Dinner and Fulvio's 2018 olive oil. The dinner was an extraordinary experience I will always treasure. The people I met and have now broken bread with hopefully will become friends I look forward to seeing and staying in touch with for a long time. It was my maiden visit as an owner. My daughter and I are overjoyed and elated to be members of this elite group of people who appreciate Borgo di Vagli as a true philosophy of life.