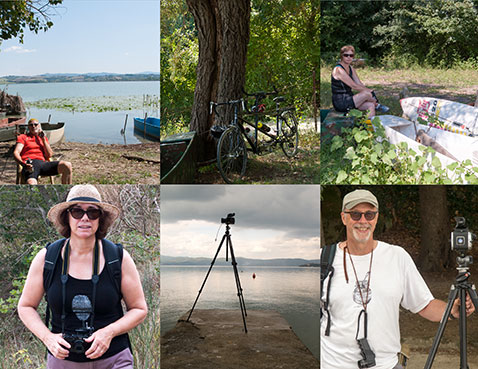 Mark Duffee and Janet Tudor, Ely, north Cambridge, UK
We first became aware of Borgo di Vagli when we were lucky enough to be invited to stay as the guests of Mark's brother Roy and his wife Judith. We visited on several occasions and not surprisingly fell in love with the countryside, architecture, art, food and wine and the local people. When the opportunity arose to buy into fractional ownership we were very happy to buy into this and become joint owners with Judith and Roy.
We were all busy working full-time and thought that the arrangement would fit in with our work and family lives.
Judith is the financial brains in our ownership and we knew that she had vigorously researched becoming an owner (as we are sure Lee can testify) so we did not have any qualms about buying-in, anyway our hearts would never have forgiven us if we had not gone ahead. This proved to be a good decision that we have never regretted taking. Being joint-owners has worked out very well; we can stay separately, with friends, all together or arrange overlapping visits.
Although it is easy to arrange flights from the UK to nearby airports in recent years we have chosen to drive stopping in France along the way. This has meant that we have been able to indulge in our joint interests of walking, cycling, photography, fly fishing (Mark) and ceramics (Janet). Driving means that we are able to bring the appropriate kit for whatever interests we have decided to pursue including our tandem as well as taking home with us whatever has taken our fancy the obvious wine, olive oil, dried porcini and the not so obvious such as a large piece of olive wood for a project of Marks.
Items travelling the other way have included a piece of furniture for our friends who at that time lived in Florence fortunately it was not too big for us to take on the train to Florence.
Once we have arrived and the lovely patient staff have helped us unload our many and various bags (particular thanks to Stefania, Daria, Veronica and the ever stoical Simone), after the drive its good to leave the car behind and walk down to Mercatale through the woods for coffee, visit the bakers or for lunch and start the process of unwinding. We usually go by train to Florence, Arezzo and Perugia.
We have been asked whether it becomes boring staying in the same place and the response is always certainly not, the local shop-keepers and restaurants recognise us (probably our terrible Italian) and there is nothing wrong in visiting the same place more than once and repeating an enjoyable experience. Being able to stay at Vagli means that we don't feel like tourists anymore and do notice when things in the locality have changed.
Regular jaunts that we enjoy are having breakfast on the "beach" at Castiglione del Largo then walking through the olive groves to the town above, visiting the fortezza at Cortona having a picnic, walking to Le Celle and soaking up the peace and quiet before returning to Cortona for ice cream or something more substantial.
One thing that does remain constant is the high standards at Vagli and the warmth and friendliness of the staff, we know that we can rely on them to help us out including on one occasion ensuring that when our car needed a new part a couple of days before we were due to leave everything got sorted out. Although I must say we were looking forward to being stranded at Vagli for a few more days.
It does feel like coming home when we recognise the outline of Cortona on the hillside and we know that it won't be long before we arrive to one of Dina's excellent meals some local wine, and the opportunity to light the candles and start the evening cinghiale (wild boar) watch. What could be better?