Testimonials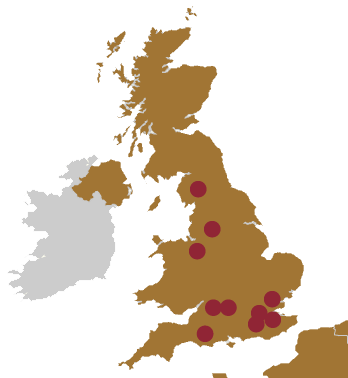 England
Alistair and Barbara Webster from Rochdale UK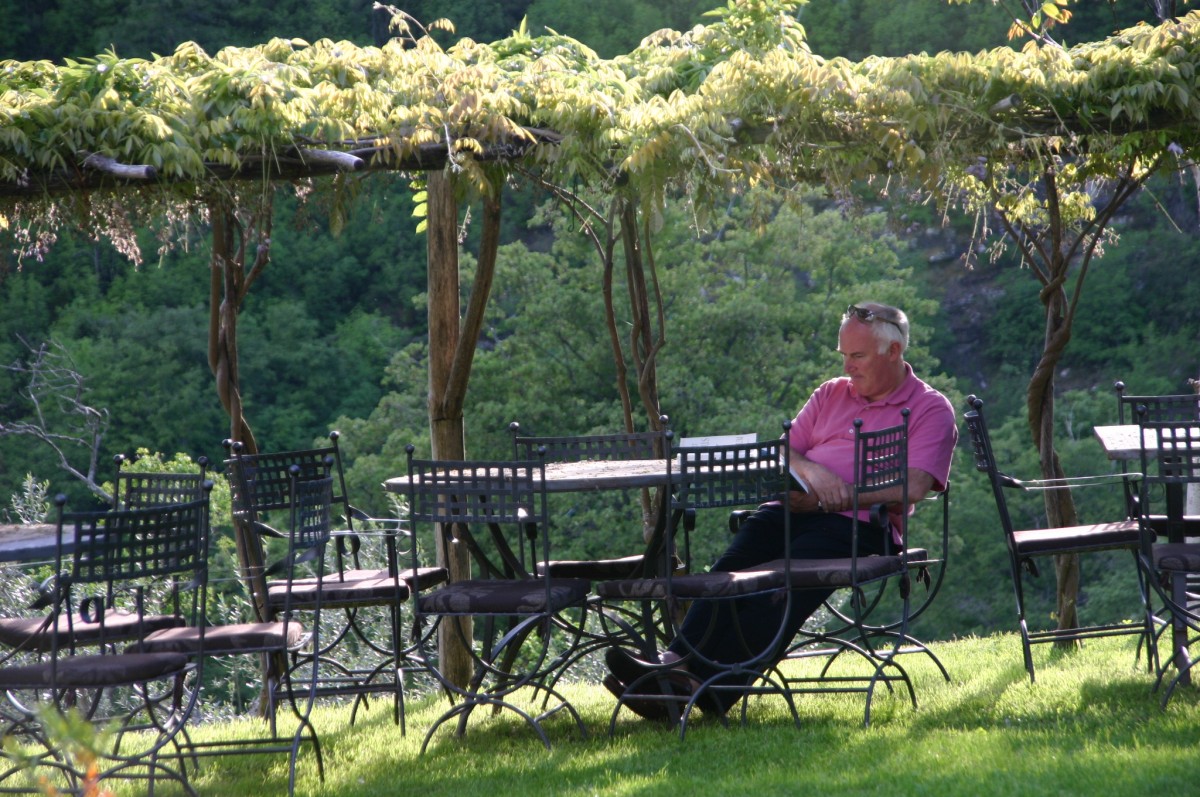 As you turn off the autostrada, Cortona, ancient city built into the side of the hill, dominating the plain, looks as though it has just grown out of the rock. Driving along the fertile valley through Pergo, it seems to be a different type of world from the crete and the Val di chiana: fertile, almost somnolent in the heat. And then over the pass, and down towards Pierle, and yet another world as you enter the timeless woodland which surrounds Vagli.
It's easy to romanticise Tuscany and to dream of it as a landscape which has always been as tranquil as it seems today, stretched out luxuriously under the sun. But the very existence of the Rocca at Pierle and the watchtower at Vagli speak of a more threatening past.
No threats now, except the danger of not wanting to go home. At whatever time of year, Vagli is a haven: it's not a place out of time – the internet and other modern developments see to that – but it is a place in which to reflect, to unwind and to give time to the many things which a busy professional life usually blots out.
Spending a few minutes watching the sun dappling the floor though the vine canopy; watching the boar families coming for their afternoon rooting on the terraces; listening to the chatter and clinking from the kitchen. No pressure from the clock.
Of course, you can find these things in many places, no doubt, but the combination of the place, the people and the care taken in restoring the old hamlet make it unique.
Any friends or relatives who have spent time with us out here always seem to leave with a wistful smile upon their faces.
There is, of course, a downside: when your guard is down and the wine and food in the trattoria have worked their magic, there is always the danger of a noisy evening doing ( in my unfortunate case ) Monty Python impressions.
For which this Queen's Counsel can only apologise – in the words taken from the Monty Python Italian phrasebook: "My hovercraft is full of eels!"
---
Mark Studer, London UK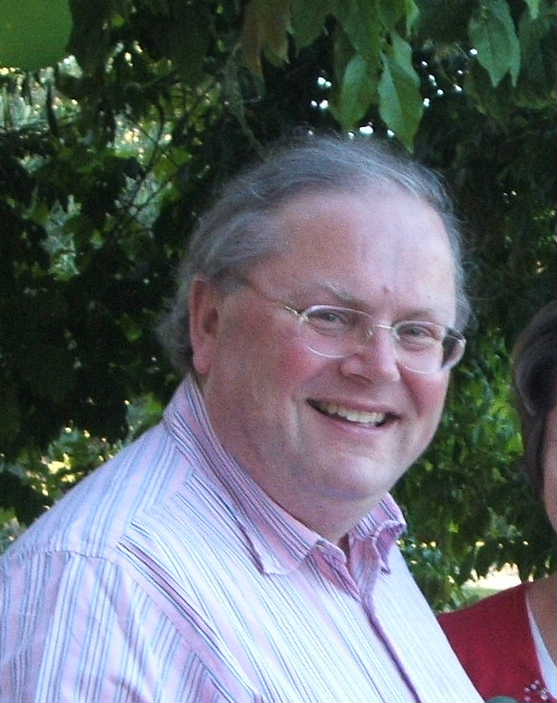 As a student I spent 9 months at the Università per Stranieri in Perugia and I first visited Cortona at that time. I was learning Italian from scratch and even did a course in Etruscan Studies, which involved visiting Etruscan sites and museums throughout Etruria. That was when I first got to know and love Central Italy and I have been returning to the region ever since. I often thought about purchasing a property but never wanted the hassle of maintenance or letting at periods when I would be unable to use it. The Fractional Ownership concept suits me perfectly
I think I first learned about Borgo di Vagli from a press advertisement and then I came to a presentation made by Fulvio at Durrants Hotel in Paddington. He had brought wine, cheese and salamis from Italy and the party went with quite a swing, enhanced by the fact that the waitress assigned to the presentation by the hotel turned out to be a native of Cortona! I was especially impressed with the enthusiasm of some people who were already Fractional Owners and who came along to the presentation.
I was impressed when I attended Fulvio's original presentation and said that I would visit one afternoon on a forthcoming trip to Tuscany, but he was insistent that I had to "wake up at the Hamlet" in order fully to appreciate it. So I drove over from Castelnuovo Berardenga where I was staying at the time to stay the night at the Hamlet. The white road was a little daunting when I first encountered it, but I had experienced much worse in the Florentine Hills (the equivalent of dried-up river beds!) and my hired Fiat Punto had no difficulty in scrambling up the hills. I suppose on first seeing it I thought that the Hamlet was quite stark, but the restoration has been entirely faithful to the setting and to the vernacular architecture and that is one of the things I now like best about it. On my first evening I had dinner in the Trattoria with Fulvio, his son Edoardo and Lee and was lucky enough to sample Dina's fettuccine alla lepre for the first time. And Fulvio was of course absolutely right that nothing can beat waking up in the Hamlet and having the morning view down to the Castle of Pierle. As it happened, my first sight was in brilliant summer sunshine, but the view doesn't fail to enchant in any weather, even (or perhaps especially) in snow!
I have always only ever regarded my ownership at the Hamlet as a lifestyle investment and a down payment on many future happy times in Tuscany."
---
---
Jeremy and Pat Bilham from Dorset, UK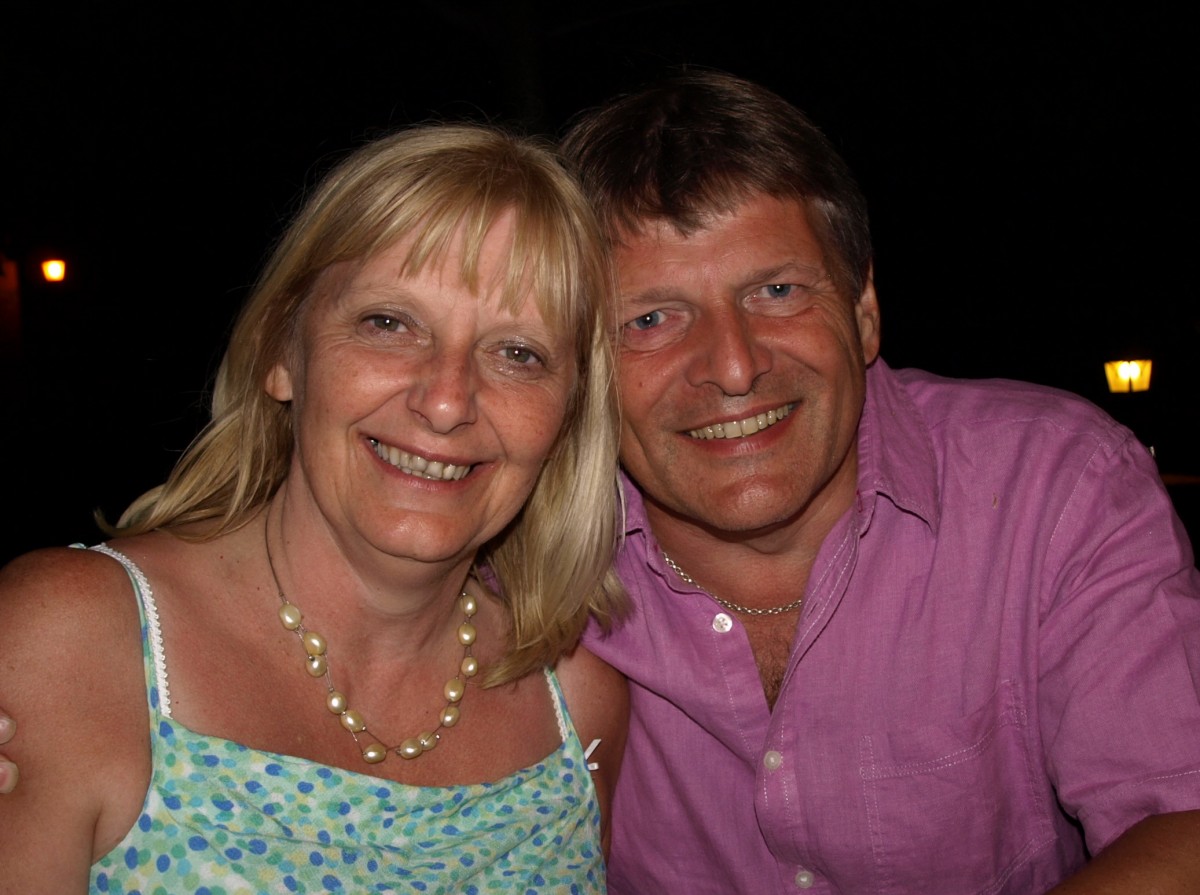 We first came across Borgo di Vagli almost by chance. Having spent a long weekend in Tuscany it gave us the taste to spend some more time there.
 After some research we discovered Borgo di Vagli on the web and booked an inspection visit, or so I thought! Flights booked and we turned up, but we were not expected. Our booking had not come through. However, the team could not have been more helpful and put us straight into an available residence overlooking the castle.
When Fractional Ownership came along we jumped at the chance. It was absolutely ideal for us and fitted in with the way we chose to use it.
We had never normally planned our holidays in advance and we had always expected to get a last minute bargain, but that never seemed to work for us, ending up with accommodation that nobody else wanted, under the flight path etc. They might have been last minute but they weren't bargains.
With Borgo di Vagli it was reliably high quality with no worries and we could book well in advance or just a few days. We know we will be able to just totally relax from day one.
As for always going back to the same place, Borgo di Vagli is not a problem for us. We have stayed in most, if not all, of the residences and they all have their own unique charm so we are never disappointed. Also, having visited many times, we find there is no pressure to visit all the tourist areas. We have done that already, so we seek out those places off the beaten track and then reward ourselves with a day by the pool.
It was definitely a lifestyle investment for us and it has changed our lives. We visit 3 or 4 times every year; as much as our work allows. Our children, now grown up since we started, still want to come with us and bring their partners (maybe because there is no cost involved for them!). We have brought friends along and they have come back on their own. So it is very flexible from that point of view.
Another bonus is that we meet so many great people from the rest of Europe and from the States. Sharing Dina's meals in I' cche c'è c'è certainly breaks the ice and we always seem to be the last to leave the trattoria. Then a glass (or two) of Limoncello on the terrace afterwards can extend into the early hours.
We have never failed to look forward to our time in "Vagli" whether with family or friends or on our own and have never considered exchanging
---
Mr & Mrs Shortland Kent – UK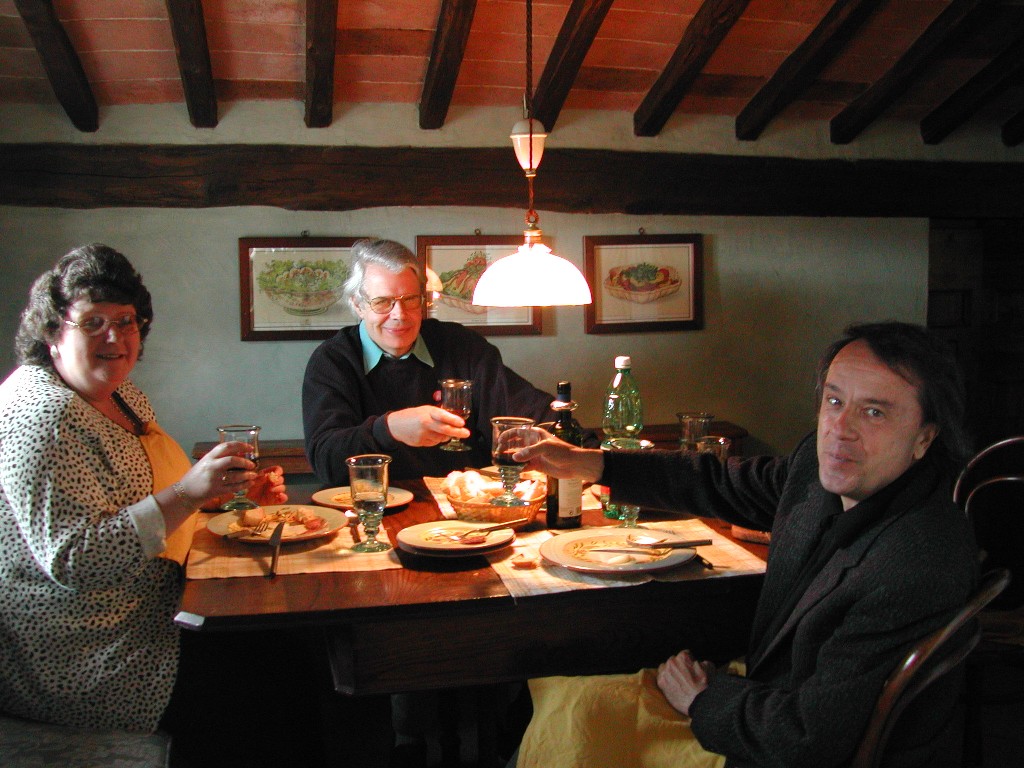 On a grey day in April, the views from Borgo di Vagli were outstanding, and one can only imagine how spectacular they will be in the full bloom of an Italian summer.
Engineer Fulvio di Rosa and his team have created wonderful interiors to complement the views, with beautiful antique furniture along side fully modern kitchens and bathrooms. We were extremely impressed with the attention paid to even the smallest detail.
We were lucky enough to be the first to enjoy fresh bread cooked in the wood oven, and we look forward very much to savouring our first feast in the cosy trattoria, along with all the other treats Vagli has to offer, when we "claim" our little piece of Tuscany later in the year.
October
We returned to Vagli on a bright golden day in October. There was a gentle mellowness everywhere, which complemented the old stone buildings so well. Our residence was so cosy and inviting that even the little bird tapping at the window appeared to want to come in to share it with us. We were absolutely delighted with our purchase, which already feels like a second home even after one short week. It was fascinating to watch Fulvio's team turning the old milking shed into the new alimentari, and we are looking forward with great anticipation to seeing the further changes to our little spot in Tuscany when we next return.
---
Mr & Mrs Tom and Colyn Moore Wiltshire – England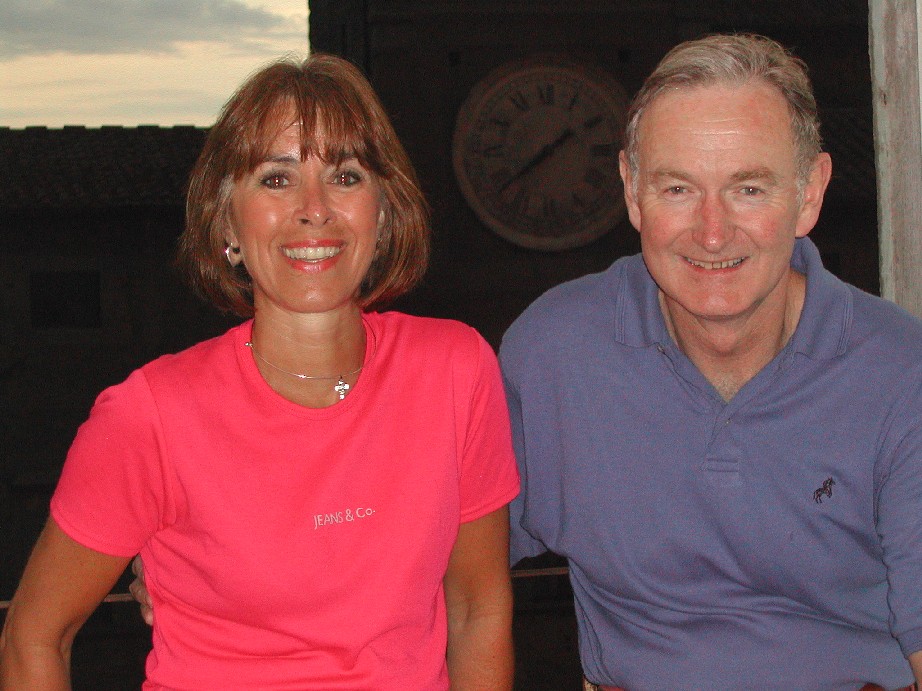 Two years ago we were captivated by the concept of the renovation of an old Tuscan hamlet. As we wandered around the overgrown and derelict buildings, we could only imagine the magnificent potential. To the astonishment of our young children, we committed to two and a half walls and no roof! It has been exciting to follow the progress and watch the butterfly emerge from the chrysalis.
Having just spent an idyllic week, Vagli has lived up to all our expectations and more. Daily we soaked up the timeless tranquillity and breathtaking views of Rocca di Perle. Surrounded by the unspoiled Tuscan countryside and with the strength and simple earthiness, we felt healed and rejuvenated in no time at all. Living close to nature, it was a time to re-establish ones priorities in life. Quite simply once we were there, we just did not want to be anywhere else.
We congratulate Fulvio in his vision and sympathetic attention to detail in his restoration, along with all those who have worked with him to realise this dream. Borgo di Vagli has enabled people like us to share in this little slice of heaven. 
---
Prof. John and Margaret Owens Colchester – England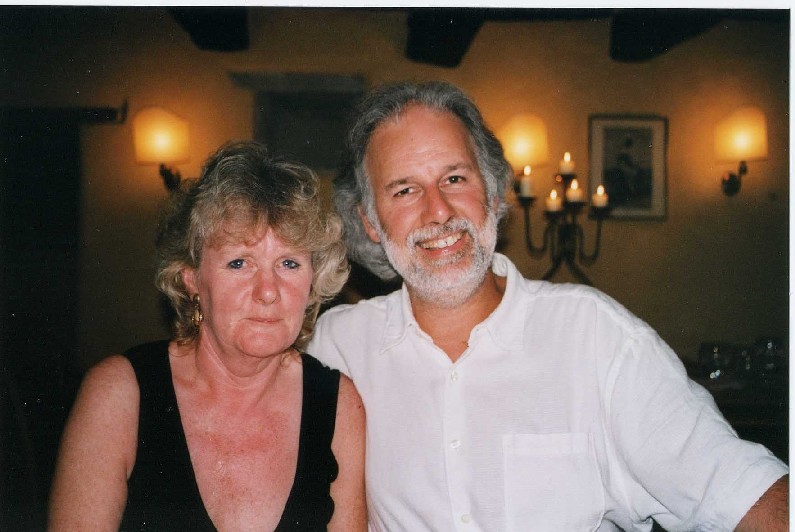 We've spent our summer holidays in Tuscany and Umbria for over 15 years now. We love the wild and rolling countryside, the hill towns and, of course, the friendly Italians. We struck gold when we bought at Vagli! Whether it's waking-up to the wonderful view from our bedroom window or simply eating breakfast or lunch under our Pergola or lazing on one of the beautiful terraces, the beauty and serenity of Vagli is almost overwhelming. We've taken lots of photos during our two weeks and will be poring over them all year. We really appreciated Dina and Roberta's delicious cooking in the village's Trattoria and the overall friendliness of the staff. We are already looking forward to returning next year.
---
Pam Chadderton-Poole, Cheshire UK
I love the total tranquillity of the hamlet. My favourite memory is watching a large family of wild boar one evening from my residence.
---