Each month we've highlighted a place of interest around the globe that we consider as unique as Borgo di Vagli. The tips are selected as they either show respect for the environment, nature, and architectural beauty or are deeply indigenous to their individual origin.
This month we highlight David Copper's trip to Podere Il Casale in the Val D'Orca
One of the best aspects of visiting Tuscany and Borgo di Vagli is the ability to visit the wonderful wineries in the region and witness firsthand the artisanal work that goes into producing the regions notable wines. While looking for a similar spring-time experience, my wife Melissa, who has a strong interest in home cheese-making, stumbled on the website of a small organic creamery near Pienza, Podere Il Casale, that welcomed visitors. She suggested that we visit and learn how they make their cheeses, particularly pecorino (the local specialty.) Podere Il Casale also hosts a restaurant and we opted, in addition to the cheese-making tour, to have their vegetarian lunch, which includes a wide-range of their own cheeses.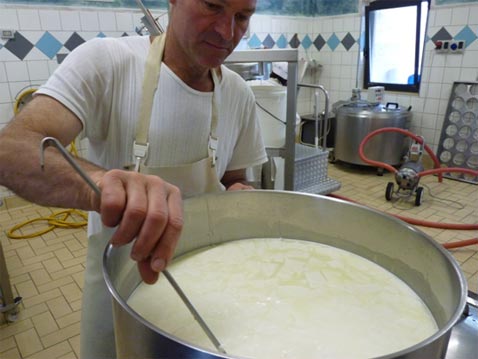 Arriving in the morning, the owner and cheese-maker Ulisse - a Swiss native – welcomed us and spent several hours with us explaining his philosophy on cheese making and organic farming while simultaneously working in the dairy making various cheeses. For our visit, he arranged a small demonstrative production of a goat cheese so we could see the various stages of the process. The whole experience was very informative and hands-on. We were immensely impressed by the amount of time that Ulisse spent with us and the information he was willing to share.
After we finished with the visit to the dairy, we ate a tasty vegetarian lunch consisting of a variety of dishes: salads, soup, pasta, and of course a wide selection of both goat and sheep cheeses produced by Podere Il Casale. The quality of the organic food was only matched by the stunning scenery and panoramic view of the Val d'Orcia.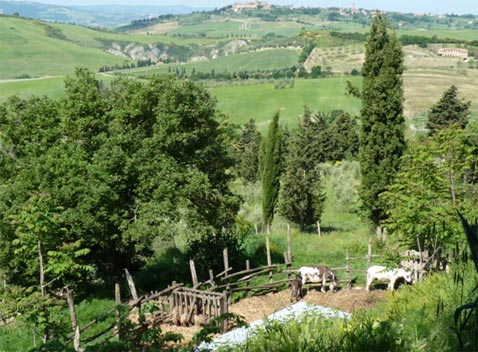 Those wanting to buy their cheese can do so in their small shop. Alternatively, we were told that their cheese is sold in the market store 'Lucignano' on the road between Cortona and Borgo di Vagli.
The hands-on cheese-making experience and lunch was €60/pp; for those just wanting to have lunch the cost is €35/pp.
Podere Il Casale is located just off the road between Montepulciano and Pienza – approximately 50min from BDV. Reservations are required and can be made by reception at BDV.