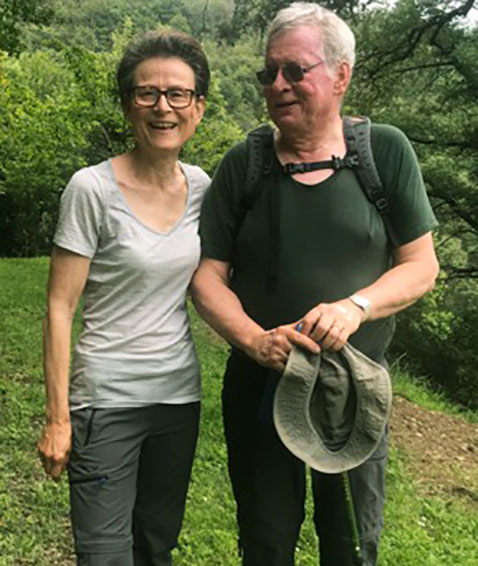 Gitten Hammerberg & Jens Kjeldsen-Kragh Copenhagen, Denmark

We have been asked if we could make a contribution on the background for our decision to join the Borgo di Vagli community, which we gladly do. The first time we heard about Borgo di Vagli was from our dear friends around 18 months ago. They were a bit ahead of us in the process and actually bought a fraction in March this year.
We have quite often been traveling in Italy, and both of our children have studied at universities there: One in Urbino, Marche, for a year, the other in Florence for 4 years. We find Italy a wonderful country in all respects - the climate, the food, the cities, the nature, and the people, and we keep coming back.
However, we have never seriously considered buying a property of our own in Italy. Not only were the prices too high, the hassle of maintenance, dealing with the authorities, and feeling almost obliged to go there whenever possible, did not appeal to us. But when we learned about the Fractional Ownership "model", we found that this could be the optimal way for us to own a second home away from home – getting all the advantages of having a place we could call our own and none of the disadvantages of property ownership.
Having both recently retired from our working life, joining the Borgo di Vagli community represents to us a lifestyle investment, much more than a classic financial investment. But of course, one needs to be sure that engaging in a Fractional Ownership (which we had never heard about, and which does not exist in our national legislation) should not be a foolish step, financially or legally. Hence, we had a lot of questions, all of which Lee dealt with exemplarily: quickly, professionally, and patiently.
The discovery visit provided us with all the reality that you do not get from even the nicest brochure. The staff was genuinely dedicated and welcoming, the Hamlet impeccably run, and the general atmosphere indeed wonderful, including Dina's cooking that also included vegetarian meals that were a real treat for Nina. During the few days of our discovery visit, Lee not only took us for a couple of nice hikes introducing the surrounding landscape, he also introduced us to other owners with whom we both went on hike and dined together. Lee also organised that we had an exclusive dinner with Fulvio; it was very interesting to learn about his work and how he transformed the Hamlet from ruins to what it is today. A real privilege that he would spend his time with us.
So, the combination of a highly professional management and a truly pleasant atmosphere convinced us: This is a place that we want to come back to, and we hope go there for a couple of weeks several times a year during various seasons.
Looking forward to meeting you all.
Kind regards,
Nina and Anders Willumsen