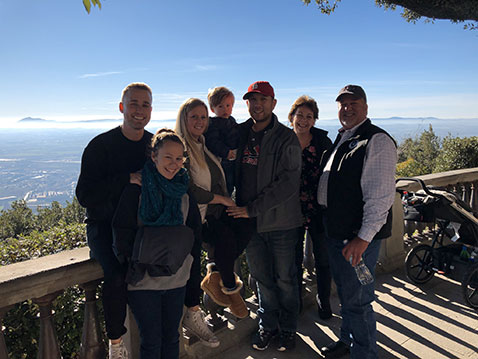 David and Jo Hoeppner Waller, Texas, USA

One of our bucket list items has long been to spend Christmas in Italy, and having just completed our purchase as new owners in August of this year, we thought why not? So, we scrambled to arrange vacation days for everyone, watched for the best airfare we could get and the seven of us (a mix of ourselves, our oldest daughter, son-in-law and grandson, our Los Angeles based 24-year-old son, and our 19-year-old daughter) were off to The Borgo!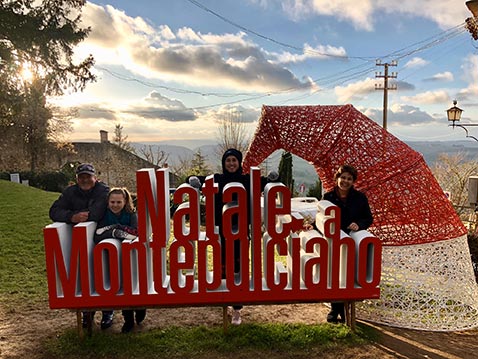 After the long-haul flight from Texas, and then the drive from Rome with a 2-year-old who by this time wasn't too happy about being confined for so long, the sense of contentment at coming home as we made the last couple of turns on the gravel road was interesting. This was only our second time at the Borgo and we were coming home…? That feeling was soon explained as we stopped in front of reception and pouring out the door came Stefania, Tiziana, Simone, and Veronica to welcome us! At 5:30 p.m. on Christmas Eve, instead of being at home with their families they were there to welcome us with smiles, hugs, laughter and joy. THIS is what sold us on The Borgo on our discovery visit and it confirmed that we truly do have an Italian family. Indeed, our grandson made fast friends of Dina and Tiziana, passing by the kitchen door and stopping for a "Ciao!" (and maybe a piece of candy?) every morning and evening at a minimum, and even now he keeps asking to go back to "see Dina and Tizi at Nonna and Poppi's house." They quickly got us settled in and despite the exhaustion from traveling, it was hard to go to sleep that first night just from the sheer excitement at being back; at Christmas; with our kids; in our favorite place in all of Italy. Our son-in-law summed it up with one statement, even having just driven in at night on the 'scary road' to the Borgo: "NOW I see why y'all did this."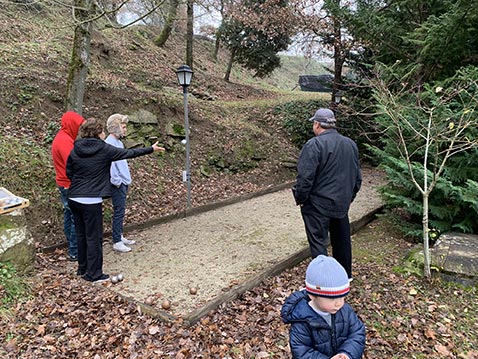 The Christmas lunch prepared by Dina and Tiziana the next day was absolutely perfect! Surrounded by others from around the world, we enjoyed a relaxing, delicious meal that was obviously prepared with a lot of love and care and it confirmed for our kids on their first full day in Italy what we had been raving about. We spent the next week showing the kids around Tuscany, visiting our favorite meat/cheese shop in Pienza, the stunningly beautiful Christmas markets in Cortona and Montepulciano, a day trip to Firenze, and just taking in the beauty of Tuscany. Every morning, the castle in Pierle said good morning to us as it rose above the clouds in the valley.
The weather was almost perfect, being chilly but not cold so it was perfect for sightseeing. Cortona welcomed us back again and again, and we really enjoyed trying out some of the local (non-tourist) restaurants, shops, etc. in the area this time, However, the consensus among the entire family upon our return home and reflecting on the trip, the BEST DAY by far was the day we went nowhere, but instead just stayed at The Borgo. Bocce ball games, doing laundry, walking the paths, playing and snuggling with Giuseppe when he visited our apartment, snacking on the meats & cheeses, the Panettone, enjoying our purchases of Prosecco & wines, playing "Exploding Kittens" and other games…THIS is why we chose to make The Borgo our Italy home.