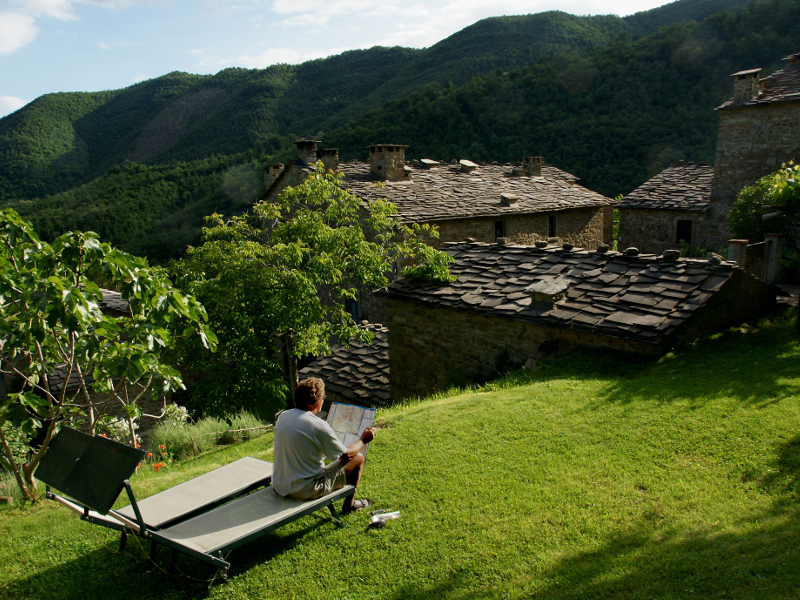 DIRECTIONS AND MAPS
If you would like to contact us please click HERE!
Address:
Borgo di Vagli,
Località Vagli,
I-52040 Mercatale di Cortona (AR),
Italy.
Reception contact details:
Tel: +39 0575 61961
Email: reception@borgodivagli.com

GPS Coordinates:
Lat 43°16′ 23″ 112 Lon 12° 6' 26″ 082
If you are using a GPS we recommend to point it to PIERLE (AR), it will lead you directly to the Pierle Castle and at the beginning of our access road. Please find below directions to the Hamlet and nearby places of interest and airports.

Nearest Airports
Perugia 40 minutes
Florence 1 hour + 45 minutes
Pisa 2 hours
Rome 2.5 hours
Train stations
Arriving from the south (Rome) Terontola/Cortona (20 mins drive from Borgo di Vagli)
Arriving from the north (Florence) Camucia/Cortona (20 mins drive from Borgo di Vagli)
Directions to Borgo di Vagli ("BDV")
If coming from the North (Firenze) or the South (Roma):
From the North or the South follow signs to the A1 Autostrada.
Once on the A1 Autostrada, head North from Rome or South from Firenze. Take exit VALDICHIANA BETTOLLE SINALUNGA and turn right after the toll gate.
After a few hundred meters, take the Raccordo Autostradale 6 Bettolle-Perugia toward Perugia for approximately 12 kilometres (8 miles).
Exit at Cortona and follow the signs for Cortona. In Camucia, at the first roundabout, take the third exit. Then, after about 200 metres, you will come to the second roundabout where you will take the first exit. Proceed up the hill toward Cortona for about 2 kilometres (a little over 1 mile), and then turn right and follow the signs for Mercatale. Proceed for about 17 kilometres (a little over 11 miles) and pass through Pergo and then pass through Montanare (you will be heading up and over the hill).
Approximately 2 kilometers (1 mile) before Mercatale, you will see the Pierle Castle. Turn left toward BDV (signposted Borgo di Vagli/Pierle). Pass the castle (Rocca di Pierle) on your right.
Just after the castle, look for a wooden sign to BDV on the right hand side of the road and take the downhill unpaved road (2 kilometres).
Borgo di Vagli is only accessible along the track of the original medieval unpaved path in a protected area of natural beauty. In these areas, drastic improvements are very limited by law (asphalt is forbidden). Consequently, in some areas the road is narrow and winds. In one section, it has a 30% slope. Therefore, we strongly recommend that you rent a car suitable for rough terrain. Please be advised that although there are passing points, the road is narrow. In some areas, you may meet other cars coming from the opposite direction.
We advise that you blow your horn upon approaching corners. Upon your arrival to Borgo di Vagli, please follow the signs to the Reception Office where you will be checked-in and shown to your Residence. Once your luggage and any other items are unloaded from your car, then please move your car to the designated parking area so the road will be open for other arrivals or deliveries.
→ Approximate travel times by car to some of the nearby cities, towns and places of interest:
Lake Trasimeno - 20 minutes
Cortona - 20 minutes
Perugia Golf - 40 minutes
Antognolla Golf - 40 minutes
Perugia - 40 minutes
Montepulciano - 40 minutes
Arezzo - 45 minutes
Pienza - 45 minutes
Assisi - 45 minutes
Florence - 1 hour
Siena - 1 hour
Montalcino - 90 mins
Spoleto - 90 mins
Mercatale *
* Mercatale (di Cortona) is a quaint Italian village just a 7 minute drive from the Hamlet or for the more adventurous a 40 minute walk along Dina's path: here you will find a church, typical cafes/bars, a post office, a tobacconist selling post cards and souvenirs, two supermarkets, two butchers selling high quality local meats, including the world famous Chianina beef and salamis, a bakers, three banks, a chemist and a well known trattoria.